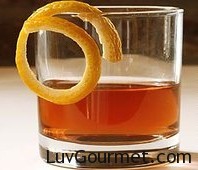 My drink of choice if I have my druthers is a Sazerac Cocktail. My friend Joe Ann would say it was a Sweet Old Fashion; but I am saving that one for another post.
As a teenager I loved Vodka Gimlets. I know, I know teenagers aren't allowed to drink; but when you are raised in New Orleans, it's a different story. I don't drink to excess and luckily I can count the number of times that I have. Well……Jay was my next door neighbor and certainly one of my best friends. He drove a Pontiac GTO in college and he often gave me a ride home from LSU on the weekend. We drove home down Hwy. 90 and as soon as he got on the highway, he would gun it and my head would snap back. I will never forget it. I bet he still loves fast cars. When I didn't have a date on a Saturday night, he would take me out and to this day he won't let me live down the night I drank five Vodka Gimlets and I will leave it to him to tell the rest of the story.
No more Vodka Gimlets for me! My all time favorite drink for the last many many years is the Sazerac. For those who want to try something delicious, gather the ingredients and for your drinking pleasure, here is how it is made.
1/2 teaspoon absinthe, or Herbsaint or Pernod or Absente.
1 teaspoon of simple syrup (or 1 sugar cube or 1 teaspoon of granulated sugar)
4 dashes Peychaud's bitters
1 small dash, a scant drop, of Angostura bitters (extremely optional; some feel it helps open the flavors, but traditionalists may leave it out).
2 ounces rye whiskey.
Strip of lemon peel
The traditional method: Pack a 3-1/2 ounce Old Fashioned (rocks) glass with ice. In another Old Fashioned glass, moisten the sugar cube with just enough water to saturate it, then crush. Blend with the whiskey and bitters. Add a few cubes of ice and stir to chill. Discard the ice from the first glass and pour in the Herbsaint. Coat the inside of the entire glass, pouring out the excess. Strain the whiskey into the Herbsaint coated glass. Twist the lemon peel over the glass so that the lemon oil cascades into the drink, then rub the peel over the rim of the glass.
My preferred method: Always use a nice big rocks or Old-Fashioned glass for this drink.  When it becomes your favorite drink you can purchase tumblers with the word Sazarac on them from the Roosevelt Hotel in New Orleans where the drink was invented. I also recommend the use of prepared simple syrup (1-1/2 parts sugar to 1 part water) for this and most other cocktails involving sugar that don't involve muddling. I don't like adding granulated or lump sugar to a drink unless I'm muddling, because it never quite dissolves completely. In simple syrup the sugar is already dissolved, so there's no chance of serving a gritty drink to your guests. As I find that the flavor of Herbsaint is far superior to that of Pernod (the usual Herbsaint substitute), it's worth your while to seek it out. Actually, it's worth your while to get a bottle of good absinthe, as it's easy enough nowadays.
Add the absinthe or Herbsaint to the glass, and then swirl it around to coat the entire sides and bottom of the glass. Discard the excess, although if you enjoy a bit more of the flavor of the absinthe or Herbsaint you may wish to leave a small amount of it in the bottom. Remember that the flavor of the absinthe should be there, but in the background — it should not dominate. In a cocktail shaker, add the sugar syrup, whiskey and bitters. Add ice and stir gently for about 30 seconds (and don't shake it — you don't want a frothy Sazerac) or until the drink is cold, then strain into the Herbsaint-coated glass. Twist lemon peel over the drink, and try to watch carefully to make sure a cascade of tiny lemon oil droplets actually strike the surface of the drink. Rub the twist over the rim of the glass, then add as garnish. Enjoy!