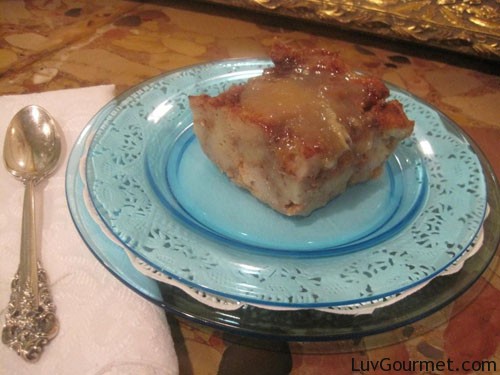 My brother –in- law, Morris used to own a really unique coffee shop. The shop was known for excellent coffee and teas and the breakfast and lunch menus were different and delicious. He had adapted many of the foods his Mother and grandmother had made in his youth and every time I was in, he would serve me one of his new creations. This recipe is truly one of my favorites.  It is comforting and delicious.
Banana Walnut Bread Pudding
Recipe is for 10 servings
4 C milk
4 eggs
 1 ½ t vanilla
1 t cinnamon
½ t nutmeg
2 bananas
1 C walnuts
1 loaf French bread (stale)
Beat eggs and mix in all ingredients. Let the mixture soak together pushing bread into liquid with the back of a large spoon. Grease a casserole dish and pour in mixture. Bake at 350 degrees for 45 minutes or until mixture is dry. Pack pudding tightly to avoid splitting during baking.
Caramel Sauce for Bread Pudding
 ½ C brown sugar
¾ t corn starch
¼ C ½ & ½ or light cream
¼ stick butter
½ t vanilla
Mix the brown sugar with corn starch and add the cream in a heavy saucepan. Add the butter and stir continuously on a low fire until it thickens. Take off the heat and add the vanilla and stir for a final two minutes.
I am also in love with mushroom bread pudding which I serve as a light meal with a salad for luncheon or dinner.
 Mushroom preparation
3 T olive oil
1 ½ lbs assorted mushrooms
4 t garlic chopped
1 T fresh chopped basil
1 T fresh chopped flat parsley
1 t dried thyme
1 t dried sage
6 C Challah bread cubed
5 lg. eggs
16 oz. heavy cream
8 oz. whole milk
¾ C  freshly grated Parmesan cheese
¾ t salt
½ t pepper
Whisk the eggs until well beaten and add ½ C of parmesan and the other ingredients. Cube bread and pour into liquid mixture, Mix and press bread into liquid with the back of a spoon. Set aside.
Preheat the oven to 350 degrees. Grease a baking dish lightly. Heat the olive oil at medium using a large heavy pot or skillet and add mushrooms, garlic and all fresh and dry seasonings. Cook mixture until mushrooms are semi soft and brown.  Remove from heat and season mushrooms with salt and pepper to your taste.
Fold mushroom mixture into bread/liquid mixture and pour into greased baking dish. Sprinkle the top with the remaining ¼ C of cheese. Bake until pudding is puffed and brown and a knife inserted in the pudding comes out clean. (about 50 minutes)