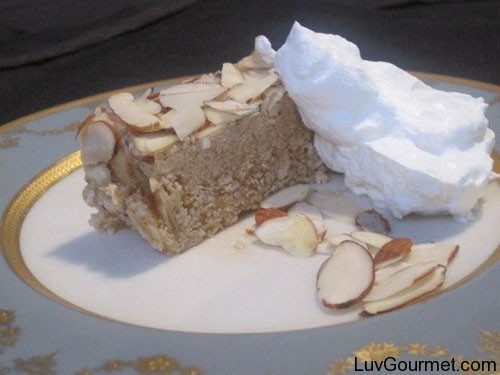 As a young adult, I couldn't wait until the meal was over to have this delicious dessert at a restaurant that went out of business long ago. It doesn't look like a traditional tort, but its name is indelibly blazoned in my brain as an "almond tort" I have renamed it Almond Heaven.
When I married and started cooking in my own home, I experimented with different sugars and came up with this no bake dessert, which is very close to the original. It takes few ingredients, is extremely easy to make and after freezing, just slice and serve with a generous topping of sweetened whipped cream. It is extremely rich do a half inch disc is all that is needed to satisfy everyone's sweet tooth. It can stay fresh in the freezer for two months.
Almond Heaven
1 stick butter
1 C light brown sugar (sifted)
1 egg
1 C sliced almonds toasted and ground in food processor for five seconds (partial grind)
¼ t almond extract
¾ c sliced almonds for garnish
1 C whipped cream
Beat butter until light and fluffy and gradually add in sugar, beating well after each addition. Add egg, beating for one minute. Add almond extract and partially ground 1 cup almond. Mix well. Shape into a log approximately 8 inches long and two inches wide.  Roll log in ¾ C sliced almonds.  Carefully wrap in aluminum foil and freeze. To serve, let stand at room temperature for ten minutes and cut into one-half inch slices. Put a dollop of whipped cream over each disc.