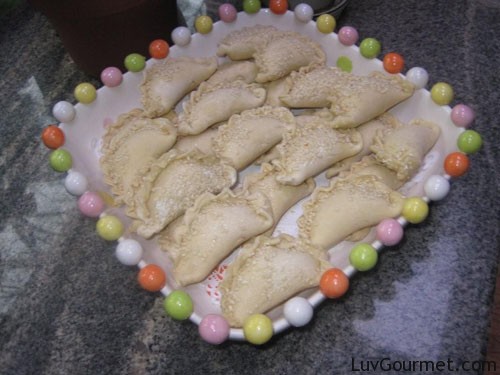 It has been over thirty years since my mother-in-law taught me how to make these wonderful savory pastries. Although labor intensive, when you gather family or friends for a morning of coffee and schmoozing, the process goes very quickly and the effort produces a delicious end product.
A delicate pastry, this recipe calls for a savory filling and are called by a myriad of different names. The name usually depends on what country the pastry originated and what filling is used with it. Whether you serve an herb filled palmier, a meat filled empanada, a spinach or eggplant bureka or this sambusak recipe filled with cheese or meat, these appetizers are perfect for your freezer, family or next party.
Recipe for dough
2 C  purpose flour
1 C Semolina flour
2 ½ sticks butter or margarine
1 t vegetable oil
½ t kosher salt
2 to 3 oz. water
To make the pastry, first combine the flour and salt. Using an electric mixer, cream the butter or margarine and gradually blend in the flour. Add the water and oil. Knead until a ball forms. Only use the water if needed to form the dough ball properly. Let the dough rest as you prepare one of the fillings.
Cheese Filling
1-1/2 pounds Muenster cheese, grated
3 lightly beaten eggs
1 t baking powder
1 t salt
Mix all ingredients together well.
Meat Filling
1 C finely chopped onion
2 T olive oil
1 lb. ground chuck
1 t ground allspice
1 t salt
½ t cinnamon
¼ C pine nuts
Sauté the onion in oil until it is soft and translucent. Add the meat to brown, breaking it up with a wooden spoon. Let meat cool and add the spices and pine nuts.
Preheat the oven to 400 degrees.
To fill pastries:
Prepare an egg wash, beating two eggs together with a tablespoon of milk. Spread 1 ½ C Sesame seeds on a flat surface or plate. Break off walnut size pieces of dough. Shape each into a ball and roll and flatten into a 3-inch round using the palm of your hand and the thumb of your other hand.
Place a teaspoon of filling in the center of the round. Fold it over to make a half-moon and crimp the edges together tightly so that filling will not burst through. Brush each pastry with egg wash and sprinkle sesame seeds on the top of each.
Sambusak can be frozen at this point. Place them in a single layer on a tray lined with wax paper to freeze. Remove them from the freezer and store them in double freezer bags and return to freezer.
To bake frozen pastries, place them on ungreased baking sheets and bake for 20 minutes in a 400 degree  oven or until golden. If they are not frozen, bake for 15 to 20 minutes or until golden.