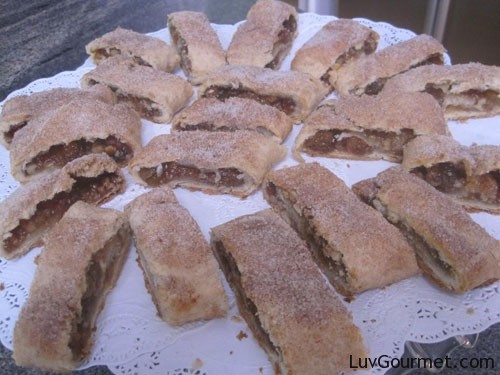 Who doesn't love strudel? Everyone enjoys it, but how many make it?  The process is easier then you can imagine and it tastes out of this world.
An invitation to a friend's dinner party, introduced me to this recipe. Her dessert menu included; brownies, lemon squares, banana pudding and the most delicious strudel I had ever tasted. I asked her at which bakery she purchased it and she told me she made it. I should have known as she is an excellent cook and a gracious hostess.
She knew I was a cook  as well and wanted to know if I would be interested in baking with her for Rosh Hashanah. Of course I said yes; and on the chosen day we made brownies,  chocolate chip meringues, sour cream as well as  chocolate pound cakes and of course some very delicious strudel.
Here is a step by step pictorial on how to make this delicious pastry. Although the base is apricot, some who taste it will think it is apple strudel. Won't they be surprised when they find out its apricot? Apple or apricot, it is so good.
Dough
1 C creamed small curd cottage cheese
2 sticks butter softened
2 c all-purpose flour
Mix all ingredients together in a mixer. Divide into three balls and wrap and refrigerate for 24 hours.
Filling
1 jar apricot preserves (or your favorite)
1 ½ C sugar/cinnamon mixture
1 ½ C chopped walnuts or pecans
1 ½ c raisins
Take dough out of refrigerator to soften and begin by flouring a work surface. Roll out the first ball into a rectangle. Layer the filling in the order given in filling recipe. Don't make each layer too heavy and leave 1 ½ inches around the perimeter to seal edges.  Roll as tightly as possible. Sprinkle rolled loaf with a heavy layer of the cinnamon sugar mixture.
Bake on a tray lined with parchment paper at 375 degrees for 50 minutes. Three loaves will fit on one baking tray.  Slice each loaf with a sharp straight edged knife or electric knife while still warm. Cool for an additional 20 minutes. Strudel keeps best when kept in a tin. Strudel can be frozen. Enjoy.
Recipe courtesy of Helaine Sugarman