Your guests will think its sweet potato…gosh; it looks like sweet potato… even tastes similar to sweet potato.   Does "it is good for your eyes" ring a bell?  No kidding, this recipe is indeed a winner. It covers all the basics: it is healthy; it is sweet; your guests will complement you, and visually, it has a great presentation.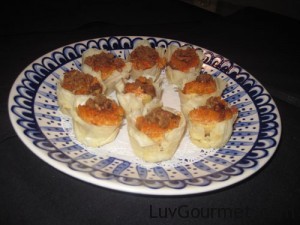 Recipe
2 C peeled cooked Carrots
½ stick butter or margarine
1 C sugar
1C milk or non dairy creamer
3 eggs beaten
2 heaping T flour
1 t baking powder
½ t salt
1 t cinnamon
Topping
1 C brown sugar
1/3 c flour
1 C pecans chopped
1/3 C Butter or margarine
Directions

Scrape skin from carrots and boil until soft.
Mash carrots with butter.
In a separate bowl, beat eggs and mix in sugar, milk, flour, baking powder, salt and cinnamon. Use a whisk to incorporate all.
Add carrots to wet mixture and mix.
Pour into a greased 9×13 Pyrex dish.
Cook at 325 degrees until casserole is almost firm, approximately 35 to 40 minute or until set.
Remove from oven, layer topping and return to oven for 15 minutes. This dish can be served as a casserole or spooned into a phyllo crisp for a beautiful presentation.
Phyllo Crisps- layer 3 sheets of phyllo together spreading melted butter between each sheet. Cut phyllo into 3×3 sheets.  Using a muffin tin, spray with Pam and position the three-ply squares into each muffin mold. Bake at 350 till crisp.  Cool crisps, remove and spoon carrot mixture into crisps.