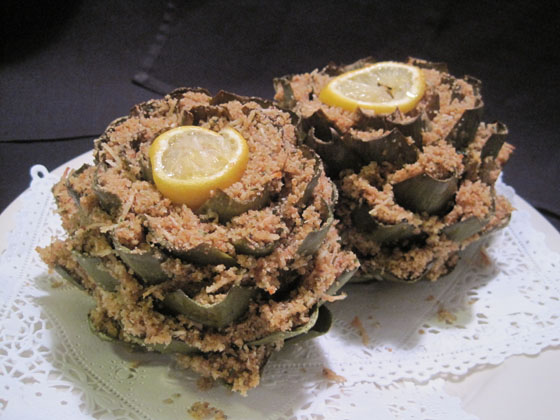 It seems a lot of my taste in food comes from my New Orleans upbringing.   My  family didn't move to Atlanta until I was in my forties, so my Southern ways are strictly New Orleans sophisticated.  I don't mean to sound snobbish; but the quality of the food I was raised with was first rate and its recipes, way above a casserole made with mushroom soup.
After moving to Atlanta, the quandary was where to get my stuffed artichoke fix. In the past, I had only to run over to Dorignac's, the best grocery in New Orleans to buy this delicious Italian delicacy.  And still after moving away, on car trips back home to Atlanta we would make three special stops before leaving the city. One was to the Central Grocery to buy a couple of Muffaletta sandwiches (more on that at a later time) and another to McKenzies, the local bakery chain, to bring back two dozen  turtles…a most delicious shortbread cookie  with a huge mound of Dennery's brand chocolate on top. Of course the final stop was to Dorignac's to pick up a stuffed artichoke. Needless to say the long ride home was delicious as we pigged out picnic style in our laps. Over the years McKenzie's is out of business, a New Orleans type café in Atlanta now imports Central Grocery's Muffalettas  and I have been forced to learn how to make stuffed artichokes.  So it took a few years, but I taught myself how to make this delicacy and mine are almost as good as Dorignac's…at least my children say they are.
So my first dilemma was what method to use when cooking the artichoke. Many cooks follow the stuff the artichoke and then steam it in a few inches of water until the leaves come out easily. Using this method the chef has to continually monitor the dish and keep pulling a leaf to see if it is ready. The following recipe calls for parboiling the artichoke and then stuffing it.  After stuffing, all that remains is to warm it in the oven till hot and serve.
4 medium artichokes
4 cups seasoned bread crumbs (Progresso brand)
½ cups grated Pecorino-Romano Cheese
½ teaspoon granulated garlic powder
2 cups olive oil
½ lemon (juiced)
Soak artichokes in salted water to remove any bugs and rinse thoroughly. Cut stems off artichokes, flush with bottom.  Cut pointy leaves off the top of the artichokes. Par boil artichokes for 15-20 minutes, or until they just begin to soften slightly or until leaf releases easily.  Allow to cool.
Combine breadcrumbs, pecorino-romano cheese, garlic powder, olive oil and lemon juice to taste in a medium bowl.  Mix together well. Gently spread leaves of each artichoke out and stuff one tablespoon of filling in each leaf.  Start from the bottom, turning artichoke as you fill  and work up to the top.Place filled artichokes in a baking dish, pointing up, and drizzle one tablespoon olive oil on each. Cut one slice of lemon and place on top of artichoke for garnish
How to eat artichoke:
You pull the leaves from the artichoke one at a time.  Draw each through your teeth slowly scraping and eating the stuffing and only the tender flesh at the base of the leaf.  Continue until you reach what is called the heart of the artichoke and pull the spinney looking leaves off and eat what is remaining.  It is excellent with a little vinaigrette or is very good just by itself.