I love anything with pecans in it. As a little girl. I spent  hours getting them out of the shell with a nut cracker and separating them from the bitter part they are encased in. Ou-e nast-ee! I remember my father's company trucks making  detours on their  route to Morgan City, La., stopping at the  Morgan City Bakery to pick up pecan pie tarts just for me.  I wonder if the bakery is still in business. They were the best.
I don't know if the pie  recipe that follows is the same; but it is pretty darn close. I have made this pie for  years and when you warm a slice and add a scoop of vanilla or cinnamon ice cream on top, you are in for a real treat.
Pie recipe
2 eggs
½ C sugar
½ C Dark Karo syrup
2 T butter softened
1 t vanilla
2 C pecans (1 C chopped-1 C whole)
1 prepared pie crust (prefer Betty Crocker deep dish)
Mix all the ingredients together using only one of the cups of chopped pecans
Pour into an unbaked pie crust
Cover the entire top with the whole pecans
Bake at 375 degrees for 30 to 35 minutes.
My infatuation with pecans is peaked again every time I come across a new recipe. This one is really easy and a great pick-up dessert when friends pop in.  Freeze what you don't use without the cream topping and pull out when needed.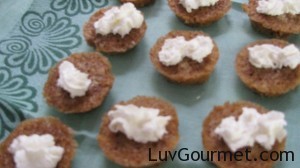 1 C sugar
3 eggs
11 graham cracker squares crushed
1 C chopped pecan
½ t almond extract
¾ t vanilla
1/2 t baking powder
1 C whipping cream
3 t powdered sugar
 Preheat oven to 350 degrees
In a bowl beat eggs with baking powder.
Slowly add sugar and continue beating until stiff.
Carefully fold in graham cracker crumbs and pecans.
Add extracts.
Heavily butter mini muffin tins
Pour batter in tin to ½ full.
Bake tarts in the oven for 8 minutes or until tarts start to rise.
Chill for 4 to 5 hours.
Before serving whip cream with sugar and dollop over tarts. Without the whipped topping, the tarts freeze well