I recently attended the International Food Bloggers Conference in New Orleans. Friday was the first day of the conference and I decided to start my second day in the city with a cup of café au lait and that delicious donut N.O. is famous for, the beignet. I headed straight to Café' du Monde on Decatur Street. Had two cups and three donuts and I would have had more; but I knew the weekend would provide more good food.
Fortified with my delicious breakfast, I went back to the Monteleone where the conference started that afternoon.  Not only were food bloggers participants at the conference, but a group of creative visionaries who create yummy foods as well as computer applications to make our lives simpler in the field of food were present. It was a day of seminars followed by samplings from some of New Orleans better restaurants. But before giving an overview of the conference that day, it is "time to eat…again!"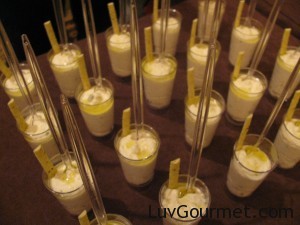 Starting backwards I had dessert first, which is actually where I'd like to start every meal.  I had, don't tell… two French macaroons covered in chocolate followed by a jigger of honey covered rice pudding mousse with cardamon and pistachios. Really great desserts were supplied by Sucre on Magazine Street.  For those who don't know, the owner, Joel Dondis is one of NOLA's premier caterers.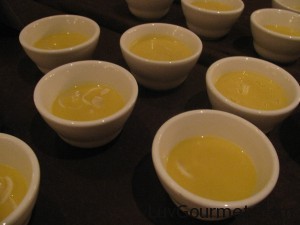 The Le Petit Grocery at 4238 Magazine Street offered a chilled corn soup with Hawaiian hearts of palm and starred hotel, the Windsor Court's Grill Room offered a Creole shrimp salad layered on a potato chip as well as a pineapple and basil crab salad served in an endive spear.
 My favorite appetizer that night was a spicy tuna tartare topped with an avocado mousse on homemade chips sprinkled with micro greens from the restaurant St. Marie at 930 Poydras Street. 
The ten month old restaurant, Sylvain on Chartres offered a chicken liver pate on a French crisp with a dandelion garnish. The owner told us he gets a lot of the movie stars that are filming in the city in his restaurant. He said they call his place their clubhouse. Their menu looks really good.
The conference presented new web based applications in the field of food that will make everyone's life a wee bit easier. Design My Meals launching very soon will save the home cook loads of time.  The subscriber puts a listing of the items in his pantry and fridge into a database online. When he is ready to go to the grocery, he enters the menu items for that meal or group of meals and the site looks at your data of inventory and prints out a grocery list for you. How cool is that? Go to DesignMyMeals.com and subscribe and be ready when their site becomes live on line.
Another really great application is called Nosh. The principal of the company explained you can share what you eat with your friends and see what's good in every restaurant across the country. You rate, review and take pictures of your food while in the restaurant.  The application has also been integrated on Foursquare.com. You can check-in and share photos and dish recommendations with friends on Facebook and Twitter. View your friends feeds to see Noshes from nearby restaurants, featured users, or the latest Noshes from all users. You can even add your home as a "private" place to show off your skills in the kitchen to your friends and followers while keeping your address hidden. So much to learn, I loved it!
The night was not complete until I met up with Bryna, Lois and Daisy, longtime friends from New Orleans for cocktails and shared a long visit just outside the Carousel Lounge in the lobby of the beautiful Monteleone Hotel. These are girls I have stayed friendly with for the last twenty plus years since moving away from the loved city where I grew up. If you can't share time with your friends, what's really the point? I stopped in to see another old friend, Ron Pincus, manager of the hotel. He and his wife Anne and their sons lived around the corner when I lived in New Orleans. He is always so kind and gracious; it was good catching up.
Stay tuned for Saturdays review and more good eats.