It was a beautiful day in Atlanta as well as the day my girlfriends and family were taking me to lunch for my birthday.
I was all set to leave and lo and behold the battery in my car was dead. Seeing as though I was the guest of honor, I figured some may worry if I wasn't on time. But as one of my daughter-in-laws always says, "no worries, no pressure", I called her to pick me up and ten minutes later we were on our way. Thank you Beth…of course Cate would have been there too, but she was already on the other side of town close to the restaurant. My girls could not join us that day as they had to work and I knew they would be missed.
Local Three is one of the new hot spots in town.  It is a   place the in- crowd frequent, a place for great people watching and a place you know the food will be good. I had dined there previously for dinner and was anxious to return.
Sorry, but I have to begin with the dessert first. It was a cake that was both beautiful and amazing tasting. My husband and I polished off the last piece  capping off a birthday weekend that was fabulous.  The cake's first layer was a  thin layer of moist cake layered with a light colored chocolate mousse that somehow the pastry chef had infused bananas in. Topped off with a dark chocolate ganache, all I can say was that it was outstanding.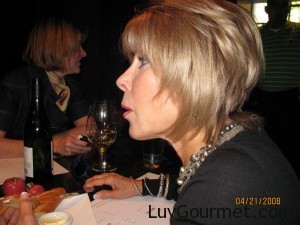 Included are pictures of some of the girls' and a couple of the delicious dishes we had. And when….. not if you get the chance, high tail it over to Local Three for lunch or dinner. Dennis the manager is a cutie pie and make sure to tell him hello for me.  A great big gracious thank you to my family and friends that made this birthday lunch a very special day!
Try the lobster salad roll on a toasted hot dog bun and a big fat pickle or the fried fish on french or just a wonderful hamburger. Choices get a wee bit fancier at night, short ribs, more seafood choices, pork specials and one of my favs…mixed varieties of roasted mushrooms over a creamy polenta pudding.
Joining me were my two daughter-in-laws and their Mothers. How lucky I am to have  such beautiful girls who have given me my three beautiful granddaughters.